So Mission 2 was Raid – opposite table corners in an L-shape deployment 12" in. There where 4 objectives (2 each) but each player could not put any of his in their own quarter, and each one had to be 12"+ away from the others, board edges and deployment zones. This alone made them spread out almost in a line from neutral corner to neutral corner. Each one was worth 2 points if captured by a scoring unit, and 1 point if contested with a scoring unit. A 3+ difference was needed to win. The game would last 6 turns. You can see my list here.
Now when I saw I would be playing Necrons I almost did a little happy dance – I would soon pay for my Blood Claw-esc arrogance...
2 pairs of Heavy Destroyers
Looks like a cake walk on paper....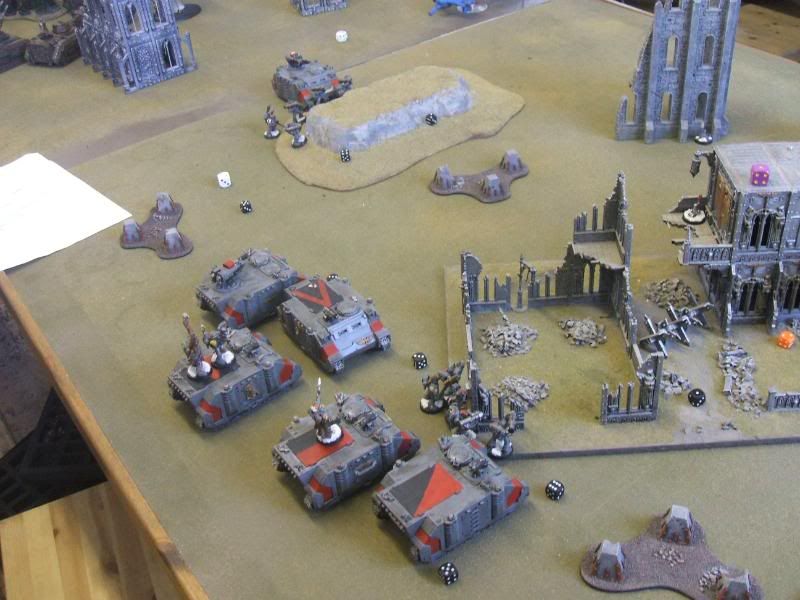 The Nercons won the roll off and set up fairly aggressively towards the middle of the board, after much thinking I did the same bar a unit of Long Fangs on the cusp of a hill on my left. He kept his Warriors in reserve and I kept my Land Speeders in reserve to deep strike and the Scouts would do their thing.
In a display of dice rolling that would have mathhammer fans crying cheat, the Destroyers took down all my Long Fangs bar 1, cracked open a Rhino and a few Grey Hunter's inside. It was brutal, and simply soul destroying – but fluff wise that's what Necrons do!
In my turn the surviving Grey Hunters ran into cover and are joined by the Jaws Rune Priest in a attempt to drop some Destroyers down a hole, but he failed. I advance down the left of the large building hoping to stop Nightbringer over the next turn or 2 before he can eat my army. I push my Rhinos forward 6 to take some pop some shots off with Living Lightning and meltas vs Nightbringer but not to much avail.
The Destroyers open up and pretty much erase the previously disembarked Grey Hunter unit from existence and take down the Jaws Priest too. Nightbrininger closes the gap and will hit combat with something the next turn... meanwhile a unit of Warriors walk on to the board.
My turn 2 sees a unit of Scouts come in behind the Warriors, and fluff combat against them. 2 Land Speeders come down, 1 to help down Nightbringer and 1 to annoy the Destroyers over on the right flank. I failed to kill Nightbringer and only reduce him to 3 wounds with pretty much everything that can fire at him letting loose...
The second unit of Warriors came on and break the Scouts in combat who run off. Nightbringer hits combat and eats a unit of Grey Hunters, who thankfully decide to run off. Thankfully the Destroyers move to taking out my Land Speeders to no avail – the dice start to desert them at this point.
My last unit of Scouts and Land Speeder come in, but I roll a 2 for the Scouts board edge, but despite being out of the main fight they are in position to take on some destroyers. The Speeder comes down to help out vs Nightbringer, and despite only having 3 wounds left takes every single last shot and is still left standing on 1 wound. With only my Rune Priest left to cast living lightning, he gets 5 shots, all hit and inflict 2 wounds and in a flash of lighting and blinding light the C'Tan god finally drops but not before his exploding essence takes down 2 more Marines...
The Necrons start to retreat as what remains of my Space Wolves push forward. 2 units of Destroyers try to take out some of my remaining transports but can only stun them at best, while the third unit reduces the Scout squad on the right down to 2 men who then decide to run off.
Thankfully for me the Scouts rally in my turn and thanks to the new batch of Q+A's can consolidate 3, move normally and they even manage to make combat so they can get some pay back! I throw what I have left into trying to get the Warriors down in number but not much happens. Meanwhile the Razorbacks and Land Speeders start to make a real difference against the Destroyers, but I'm running out of time, men, and guns.
The Destroyers rip open my last Rhino and in a return of luck for the the Necrons take out 4 Grey Hunters in the explosion! Fortunately my Scouts in combat finish off the Destroyers but are left with nothing to do for the rest of the game. Thankfully in my turn I manage to force a Leadership test on a unit of Warriors who fail and flee of the board! Multiple Hits from Land Speeder Heavy Flamers start to take their toll on the destroyers but We'll Be Back limits it.
He Takes down a Razorback, but reduces my last large unit of Grey Hunters down to 4 men so I could not conga line them to take 2 objectives in the middle. In my turn I push towards a Land Speeder and a Razorback with 1 Grey Hunter forwards to contest the objective he holds, and I finally take the one in the middle.
So at the end of the game there was 1 Unit of Warriors, a Razorback with a Grey Hunter, along with a Land Speeder all contesting the same objective, and 4 Grey Hunters sat on 1 other objective, which under this missions rules makes it 3-1 to me but it is only enough for a Draw. If the game went on any further the Necrons would either would have wiped me out or I would have phased him out. So 10 points for the draw and 10 for the amount of victory points killed, so 20 out of 25 still isn't too bad!
Conclusion:
An object lesson in that there are no easy games; regardless how poor a enemy army may seem to be.
In hindsight I should have refused flanked again, as having the Warriors in reserve meant he could only ever really hold 1 may be 2 objectives and due to the L-shape deployment that "guaranteed" 1 objective was 13" away from the edge of my deployment zone – I should of rushed it and try to hold it against all comers.
But it's all could of, should of, would of....
As long as I learn something from a game I am happy and it all goes towards making me a better player. As long as one can look back over games and think objectively then one can only get better as a player overall.
Next week will see my play against.........
Space Wolves! It's a fight of 2 similar, but yet different Space Wolves armies!